Are you ready for Bi fold doors?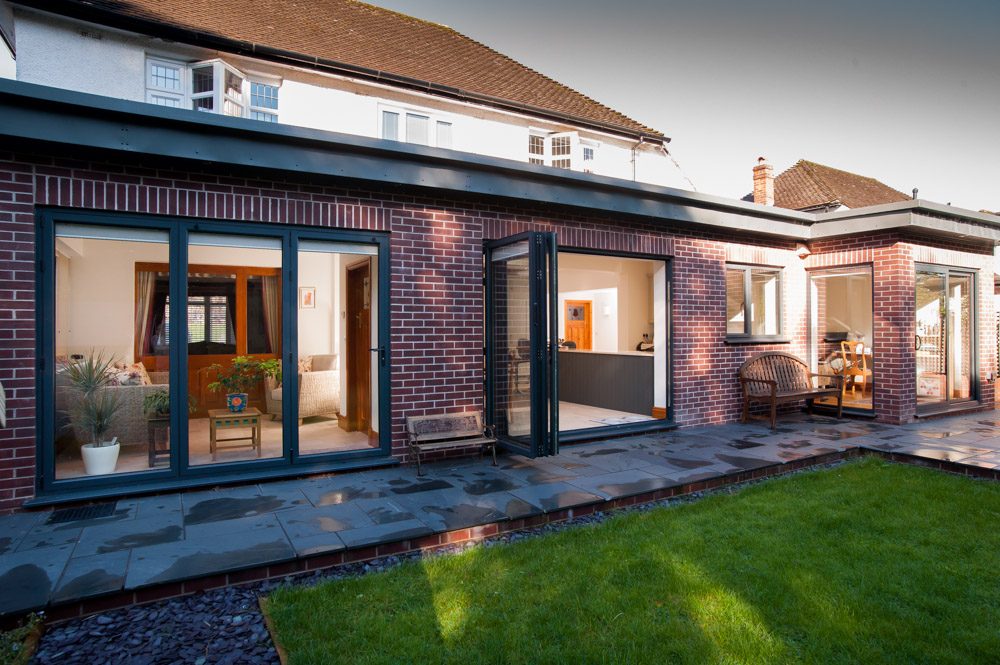 Are you ready for Bi fold doors?
Bi fold doors. The BI-FOLD DOOR has quietly been growing in popularity so much so that it is revolutionising the way we as individuals think about the creation of wide open spaces linking the interior of our homes to our gardens.
Industry in the form of manufacturers and suppliers have recognised this revolution and why would they not, with superb designs strengths and flexibility – Bi fold doors are here to stay, so, whether it be UPVC or the much-improved Aluminium, if you are looking for a door as stunning as the one above we at Bifold Door Prices are here to help. Bifold Door Prices are part of the GFD Group of companies and we have been trading "on line" in doors for over ten years, so there is not much we do not know about them. We have utilised all of that experience in creating the Bifold Door Prices web site, comparing, contrasting and vetting a number of manufacturers to ensure that the Bi folds, windows, rooflights and Lantern lights that you will find here are some of the best quality and value for money available, we have already done the work so you do not have to.
Bifold Doors are pretty much guaranteed to look good wherever you install them – the bigger the space the better they look and the more they open up your home to the great outdoors, however as with anything new, that you are purchasing for the very first time, there are bound to be pitfalls and bi-fold doors are no different – avoiding the pitfalls is the trick. – so how can the new prospective customer minimise the risk of being disappointed when it comes to making this fairly major purchase.
If you have already decided whether you want UPVC /timber or /Aluminium or a composite you will have a good idea what you are looking for– if budget is key and your opening is less than 4.0m UPVC may well be the cheapest option but it is worth remembering that the precision engineering provided by Aluminium and Composite bi-folds as required for larger openings are equally as good for smaller openings and should not be disregarded.
It is essential that as the purchaser you do some homework – you will want to know your options when it comes to – size and numbers of opening leaves (the panes that make up your door), double or triple glazing availability , the profile to be used slimline or chunky, the threshold height, the colour options – and this is before the more technical items such as thermal efficiency "U" values, weights of glazing, gliding operating system and hardware are considered – it all seems rather complicated but these are the sort of questions that your prospective seller should easily be able to answer and it is exactly the sort of information we feature widely on our website
The phrase "first impressions count" – is one that is frequently used in marketing and in the case of most products and it is a phrase that holds true for many of us, but first impressions can take many forms from service to product appearance
As human beings we all want to feel wanted and that our opinions are important, the companies that respect this need, that respond in a timely manner who know their product and can address your questions /concerns without oozing excessive over confidence will generally strike the correct balance and normally leave a positive impression. However, the company that responds late and seems unsure of the product and service invariably leaves the impression that the after sales service they provide may also leave something to be desired.
At GFD Group we endeavour to always put our customers first (the same philosophy applies to all of our companies and Bifold Door Prices are no exception) and ensure we fall into the responsive and caring group.
After first impressions you will need to investigate the important matters of –
"Product performance" –how does It work and will you be able to operate it? What guarantees are given, will it actually keep your home warmer the figures should be available, will it be solid and secure in construction UPVC and Aluminium/composites have differing construction criteria something you may wish to question your prospective seller about the variances/ comparisons between the merits of your proposed choice of product and that of an alternative material – here are a few typical guidelines you should consider–
Sightlines – are the frames slender and stylish maximising the glazing area or chunky and cumbersome minimising the glazing area.
Expansion issues – UPVC generally expands more than Aluminium or Composites and this could be a problem dependent upon size of opening.
Maintenance – this has a lot to do with the construction, the precision engineering of Aluminium and Composites normally attract less maintenance
Glass Pane size – the one we mentioned earlier – double or treble and the weight and twisting issues.
Quality of hardware – the quality of hardware should match the quality of the door, and the fixing of the hardware should not be neglected – Aluminium and Composite doors normally use precision screws directly into the aluminium rather than the normally not as secures "self-tappers" into UPVC
Thermal efficiency – doors with triple glazing are generally warmer than double and figures should be available.
How good are the colours – as many bi-folds now come either foiled (UPVC) or powder coated (Aluminium and Composite) what is the warranty on the process?
"What others say" – the much maligned "reference" still has a considerable amount of benefit – when a Company can point to a large portfolio of happy customers it has to count for something provided that the references are provided by an independent third party specialist company the GFD Group uses the tried and trusted TRUST PILOT for this purpose (the link is to the latest Timber Composite Doors subsidiary) . As bi-folds are a relatively new product in the domestic market there will undoubtedly be companies new to this market who have no such track record in bi-folds and as everyone has to start somewhere so they should not be discounted as they may well be extremely professional and efficient companies.
Finally – the Fenestration industry although its reputation is changing has unfortunately received a very bad press dur to the unscrupulous behaviour and activities of the minority – if you are in any doubt check out the legal stuff if a company has County Court Judgements or a history of Litigation the odds are they are not the company you should be dealing with
– the GFD Group has a clean and unblemished reputation after ten years of trading.
At Bifold Door Prices our objective is to assist prospective customers make informed decisions, so should the information contained in our web be insufficient for your needs, please let us know – our trained sales assistance team will be pleased to take your call– if there is something we do not know we make it our mission to find out for our customers.