Why Bi Fold Door Prices ?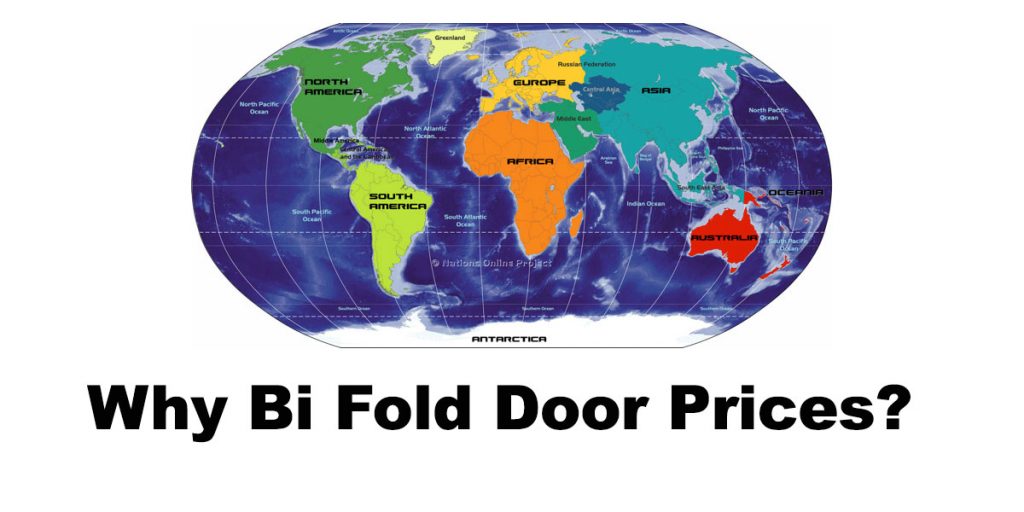 Why Bi Fold Door Prices?
Our Sales and delivery map, is a good starting point.
As the internet and international transport continues to shrink the world as we know it as businesses we all have to change with the times. The on line purchasing experience is one of the very few areas where we have created a world with minimum barriers and we have now reached a point where virtually every product that you can name can be purchased on line.
At Bi Fold Door Prices as the name suggests we deal primarily in bi fold doors along with windows , rooflights and glazed roof lantern lights – in short some of the sorts of products that you would not expect to appear on a web site, but the World Wide Web has swept away all of those geographical barriers not only nationally but also internationally, distance and location are now no longer relevant to any sale, a philosophy which we at Bi Fold Door Prices heartily embrace. Our worldwide presence may not yet cover all of the above map but time is still on our side – neither does our web site specifically target sales – it is a price comparison web site where we do the leg work to root out quality products with quality service – as part of the GFD Group which has been around for some dozen years in the Composite Door market we have the knowledge, experience and the "know how" to sort out the best value for money deals. When it comes to major purchases we all have questions – normally lots of them – for any would be Bi Fold Door prospective purchaser a review of our "Which Bi-fold" page is a must – a set of honest answers to all of those frequently asked questions – we may not necessarily always say what you would like us to say, but the opinions we offer are the ones we believe to be correct. A classic example of this dilemma is the question which is best Aluminium or UPVC – on this page we clearly state Aluminium which will clearly disappoint any would be UPVC purchasers, our judgement is based on the technical specifications however we are also aware that there are other major factor that influences personal choice, specifically those of budgetary constraints / maintenance– our aim is not to put off any individual from any product merely to point out the benefits and pitfalls. And yes, through one of our Group Companies we also supply UPVC products including Bi Fold doors so we are basing our opinion on experience.
Bi -fold doors are not new they are a concept that has been around for a long time the Romans the Greeks the Chinese all historically used forms of folding screens which are the forerunners of what we now call the Bi fold door. Early timber and aluminium bi-fold doors were very popular in Southern Europe when café and restaurant owners discovered they could open and enlarge their properties to encompass surrounding pavements – they of course do not have the weather concerns we experience in the UK and did not require the weather protection and sophisticated movement we have now come to expect. The modern bi-fold has been developed to maximise the area of glass available and have the capability of opening up a room by folding back the glazed wall of the opening whenever you chose to do so.
Some of the items you may wish to consider when choosing your door are –
Slim line aesthetically pleasing frames rather than unattractive clunky profiles
Double or triple glazed units that ensure excellent thermal values
Thermal breaks / thermal cores in the frames to enhance "U" values even further
Smooth and sophisticated operating systems that glide rather than are dragged into position
Configuration, opening in or out – number of panes, folding or sliding or a combination of both.
Low thresholds that actually do prevent water ingress
Bright and colourful –– foils and powder coating have revolutionised the appearance of both Aluminium and UPVC
Possibly the most important – price – as Bi folds are now no longer seen as simply a commercial product the number of competitors in the domestic market has risen – more manufacturers = more competition = cheaper prices.
All of the Bi – fold doors featured on our web site meet the above criteria.
Why Bi- Fold Doors Prices? We may not yet have reached world domination but our advice and guidance works pretty well throughout the UK and the online on line experience of selecting your new Bi fold doors all from the comfort of your home is one not to be missed (beats visiting showrooms in the rain) and of course once installed your new doors will look pretty spectacular and we at BI Fold Door Prices will be pleased to have assisted you in your decision making.