Bi Fold Doors, but which material?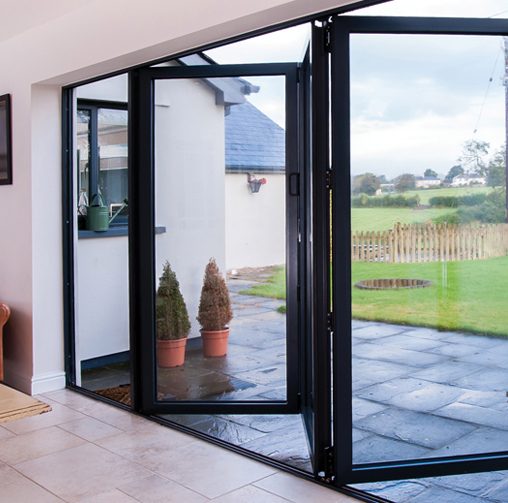 Bi Fold Doors, but which material?
Bi Fold Doors, but which material? Bi-folds as we have to come to except them as an external door – rather than Chinese internal screens – made their appearance on the Continent in appreciable numbers in circa 1970's. When, with the much more ambient climate they enjoy, it became apparent to many café/restaurant owners that one way to enhance their public appeal and their profits was to extend their premises into the pavement/garden areas of their property. These earliest of commercial bi folds were either timber or aluminium, but not as we now know aluminium, with less need for thermal insulation (particularly in warmer climates) this aluminium would have been basic aluminium profiles with no thermal breaks.
AS Bi fold doors became popular in the domestic /household markets of UK and other countries of less ambient temperature the early basic bi folds fell well below required standards on many levels and the concept had to be rethought to include such items as –
The introduction of double glazing
Thermal breaks within the framework and improved draughtproofing
Enhanced "U" values (thermal efficiency) largely through the previous two items
Greater strength and rigidity with improved weather resistant properties to withstand harsher climates
Variable height thresholds – particularly lower ones with higher weather ratings.
Competitive pricing for domestic rather than commercial use.
As the whole fenestration industry was rapidly evolving at this time the concepts of double (or even triple) glazing and introduction of thermal breaks in frames had already been met through technology advances and were readily available and accepted construction procedures.
Aluminium was still an expensive commodity during this period and therefore the chosen material of many manufacturers was UPVC which was already well established in the window market where double glazing and thermal breaks were the norm.
In the early years of mass produced bi folds the market was dominated by UPVC followed by timber with aluminium a poor third – each of the alternative materials have their faults and benefits and for many appearances was as important as performance –
UPVC was in the main white or white could support double glazing, was thermally efficient but frames tended to be chunky and destroy sight lines, with many the operating and security systems were unreliable.
Timber looked good but relied on the qualities of the timber for efficiency, could be painted or stained to any colour but could warp twist or swell in winter making opening impossible and be draughty when everything shrunk back in summer and they were more expensive than UPVC
Aluminium could be engineered with precision, had superior operating systems, could take double glazing – but this was in the days before "powder coating" and in the main was a drab grey which when coupled with the cost did not appeal to many customers.
Wind the clock forward to the present and so much has changed, UPVC is still there as a contender as is timber but the big mover is aluminium – as a commodity it is readily available and cheaper and with the advances in powder coating techniques it far outstrips the opposition in availability of colours.
Timber has lost out in as much as it is now generally the most expensive of the three leaving Aluminium and UPVC as the main players, both of which have their pros and cons – a few points to consider when you choose –
Tolerance – Bifold Doors require very accurate sizes to be manufactured. When joining UPVC section by fusion welding there is always a greater degree of finished size tolerance compared with Aluminium, plus aluminium has a far neater appearance and is normally joined mechanically reducing the risk of welds splitting and parting.
Expansion – UPVC expands and contract to a much greater degree than Aluminium, which can lead to operating problems i.e. on a hot summers day, just when you need it most to work efficiently.
Size – due to rigidity issues the normal overall size of a UPVC door is in the region of 4m wide x 2.25m high whereas Aluminium because of its can be used for virtually any width and height circa a width of 20 metres and a height of 3 metres is not uncommon
Strength – Bifold Doors can be asked to carry up to 120kg of glass per leaf so strength is key –and the strength and rigidity of a mechanically attached frame is stronger than a fusion welded UPVC frame
Fixings – all aluminium bi fold's use precision machine screws for both mechanical construction and fixing of operating systems and hardware, these screw into the profile and reinforcement and are capable of multiple use whereas generally UPVC frames use "self-tapping" screws which are a cheaper and less effective solution
Operating systems – each individual manufacturer requires to be evaluated on individual merit – but as a general rule – aluminium is the stronger material and generally all components are metal which means they can be precision engineered – UPVC has excellent strength but the use of UPVC rollers and other similar components may not be as durable as the aluminium alternative.
Sight lines – a matter of personal choice but aluminium profiles tend to be slimmer thereby maximising the area of glass and minimising the area of visible frame.
Colour – a matter of personal choice as UPVC is also now available in a range of colours but foiling and electrostatic coating of UPVC does not always have the durability of powder coating.
Cost – UPVC is generally the cheaper solution particularly for smaller openings where units can be mass produced whereas Aluminium as it used in larger openings tends to be more of a bespoke and therefore more expensive item.
Bi folds which material – the easy answer is that there is no easy answer as so many factors can influence your decision, budget, size of opening, appearance and they are all personal choices – the one thing that is guaranteed whichever your choice is that you will enjoy a whole new style of living when your home is opened up to your garden.
.