Bi fold doors – The evolution continues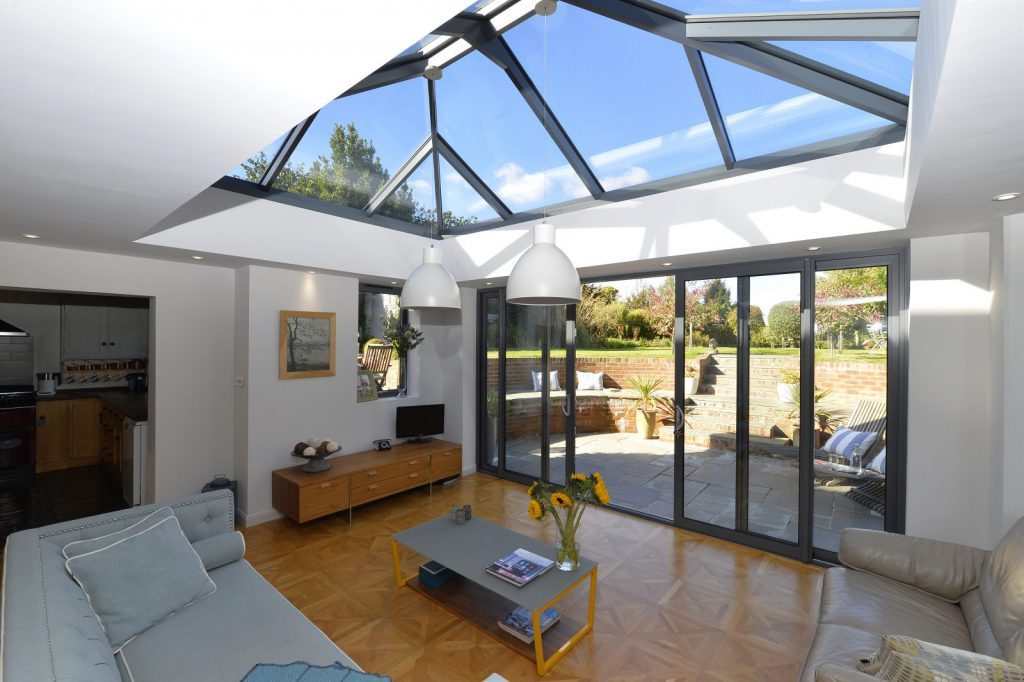 Bi fold doors – The evolution continues
If the above image is the way you perceive a typical Bi fold door to look – lots of visible handles and hinges unreliable sliding and locking mechanisms and drab colours – you are probably looking at a door style /manufacturer who is at least ten years behind the times – bi fold doors have evolved and come a long way in the last few years. At the forefront of this revolution is the re birth of aluminium as the material of choice for construction of these doors – stronger and more durable than UPVC and now available in any colour you want (subject to your chosen manufacturers premium price adjustment)
The Bi fold door is a brilliant concept in style and design and way of living as it opens up your home to your garden, providing you with greater freedom of movement and an endless flow of fresh air (which you control) into your home. Unfortunately, the aforementioned – "lots of visible handles and hinges unreliable sliding and locking mechanisms and drab colours" – was enough to make many individuals think again about their choice of door /window – the good news is that those days are gone forever. Any modern Bi- fold door will probably have only one set of visible handles and hinges located on the master door the sliding mechanisms which are now generally rollers/gliders and located at the base of the door (rather than the less reliable hanging mechanisms of previous doors) are actually in many instances a thing of engineering beauty –
As for security whether it be a traditional bi-fold or a more sophisticated sliding – bi-fold where panels can move independently every modern set of Doors will have had to comply with the industry standard for strength and security PAS24 and whether it be a door with multi – point locking systems or the superbly engineered male/female interlocking frame assemblies your door will be equally as secure – or in many instances more secure than any other external door in your home.
And as for the drabness of Aluminium most manufacturers will offer at least four standard colours, however that's not all – The advent of "powder coating "technology has banished boring aluminium forever if the colour is on a RAL chart (and there are hundreds of them) you can have the door colour of your choice making matching your décor easy and all of us need a little colour in our lives
All of the above is only part of the bi-fold story – gone are the chunky frames with unsightly sight lines all to be replaced with slimline frames of a revolutionary design where a UPVC core is wrapped with an aluminium cladding to provide enhanced thermal efficiency strength and rigidity to the individual profiles – which when cut and constructed with mechanical fixings ensures a door that no matter what the panel size will retain its structural integrity.
WarmCore – one of the first companies to use this revolutionary profile use a bright orange UPVC core to their frames others are less flamboyant but the concept is the same.
With the added strength and rigidity of the profile/panels many manufacturers have taken the opportunity to design their doors so that the customer has the option of double glazing as standard or upgrading to a triple glazing option with the added benefit of extra thermal efficiency.
At Bi-fold Door Prices we specialise in Bi -fold doors (but that's not all) and we are not talking one manufacturer – as with any comparison site we have already vetted and reviewed the products we offer – so we know they provide both exceptional style and value for money, our web site is crammed with lots more of the technical information, photographs and design tools and our staff are always available awaiting your telephone call to assist at any level, technical , sales etc.
If you are about to make a decision re new Bi- fold doors you may well be in the throes of a home extension and if you are still debating choice of Windows, rooflights, lantern lights etc – the Bi-fold Door Prices web site also offers a comprehensive range of these products and of course if your new front door is the cause of your dilemma a visit to our sister site Composite Door Prices will be of great value in helping you resolve your problem.
Bi-fold Door Prices and Composite Door Prices we are part of the evolution of the fenestration industry we are specialists in the world of doors and windows and are more than happy to share our knowledge with all prospective customers.