Its winter its three thirty in the afternoon and the lights are on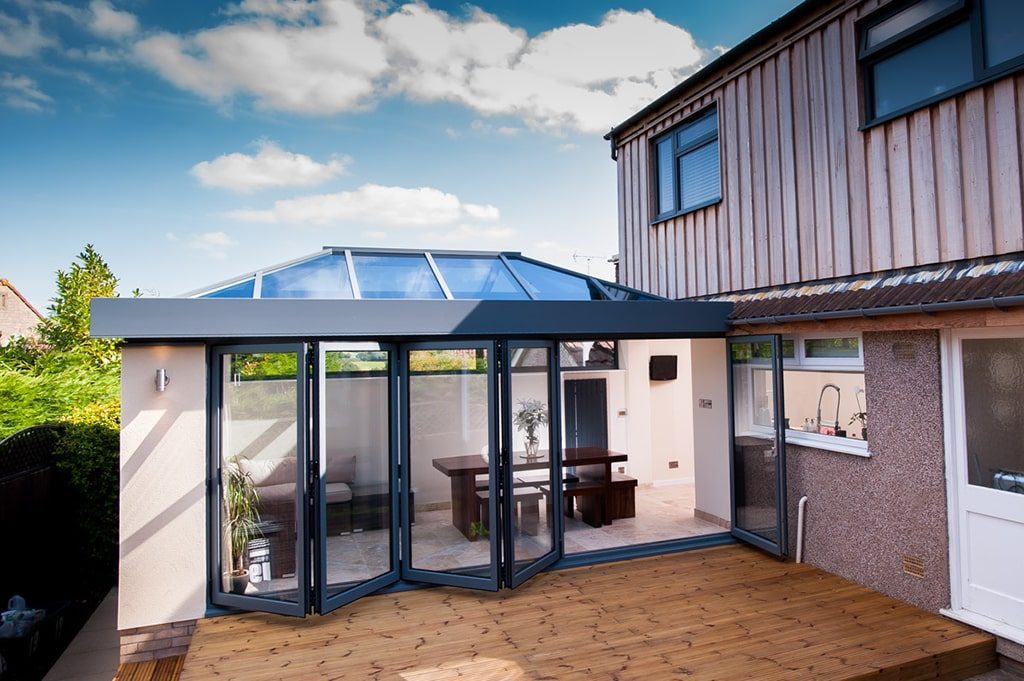 Please do not have these regrets again next year – back in the spring you contemplated exchanging the extension patio doors for Bifold doors and you were toying with the idea of a lantern light – but "time and tide" as they say waits for no man. Life and events overtook you, spring turned to summer, summer to autumn and now winter is upon us and its cold dark and dismal its three thirty in the afternoon and lights are blazing throughout your home. Its oh so sad, when if you had stuck with your "spring" intentions your extension might have looked like this –
You could have squeezed the last bit of light out of the day which, together with radiant heat from the Bi fold and the Lantern light something from which you could have benefitted on those rare sunny days, you might just have been able to have squeezed something else – your energy bills.
Natural light gives a room life and nothing provides as much natural light as the expansive glazing of Bifold doors throw in the panoramic view of the gardens whether your doors are opened or closed and they are certainly worth the upgrade from patio doors.
Whether you are a stargazer or a cloud watcher there is nothing quite like a quality lantern light to assist you in whiling away the hours gazing into the great beyond and when you are considering lantern lights there are few to beat the and the Atlas range of rooflights, lantern lights and orangeries they are a great way to help you fulfil that ultimate chilled feeling of gazing into space.
Modern lantern roof light systems such as the Atlas roof system have changed the concept of chunky "T" bar and cap construction and unsightly cross ties that limited the view and headroom forever, the Atlas system is radical and new, with discreet design and super strong slim line profile and subtle capping systems giving attractive sight lines and maximising the area of glazing to ensure that the light can flow into your home
As it is probably now to late for your Christmas wish list here is a little bit of advice from all at Bifold Door Prices for your New Year's Eve resolution list –
Forget joining the gym
Forget the diet
Forget the mistake you made last spring – get it right this time and visit our website or give us a call in January next year, pick out your Bifold doors and Lantern Lights and we promise to have them installed for the spring next year so you can start to get the all year round benefit of a light and airy home that you missed this year.